How to Convert Gas Water Heater to Electric
Is your gas water heater starting to show signs of old age? If so, you're probably preparing to replace your current water heater with a new one. Now might be a great time if you've always wanted to trade your residential gas unit for an electric water heater. We answer all your questions and take you through the process below. 
Can You Switch from a Gas Water Heater to an Electric?
If you want to swap out your gas water heater for an electric unit, you are in luck! You can absolutely convert from gas to electric without it being a major undertaking. 
If you choose to do the switch yourself, you will need to be familiar with disconnecting gas lines and working with electrical connections. If these tasks sound outside your skill set, you'll want to bring in an HVAC professional. NATE-certified technicians can also give your system a checkup and ensure your residential HVAC performs at its best.
9 Steps to Convert to an Electric Water Heater
Whether you hire professionals or perform the process yourself, these are the main steps to switch out your older gas heater for a new electric water heater.
1. Check Your Electrical Circuit Breaker Panel
The first step is to assess your current electric wattage capabilities. Your electrical wiring must be at least 10 gauge and attached to a double 30-amp fuse.  If your circuit breaker does not have enough power to handle your electric water heater, you will need to work with a licensed electrician to upgrade to a larger panel.
Once you determine you have enough power, an electrical wire must be connected to your water heater closet by:
Locating and bringing the wire down the panel

Running it underneath your home

Bringing it back up to your water closet
Note: Make sure to use only electrical wiring rated for outdoor use.
2. Disconnect the Gas Water Heater
Disconnecting the old water tank is more involved, and every step must be accurately followed.

Cut off the water and gas to your old water heater

Drain the hot water using a garden hose – lifting the lever on the pressure valve can help it drain more effectively

Disconnect the gas line and cap the exposed end, or altogether remove the line if you no longer need it

Disconnect the vent – fill the open space with fiberglass installation or patch the hole if the chimney is removed

Cut and replace old water lines
3. Remove the Tank
After the gas water heater is disconnected, it can be entirely removed and disposed of properly.
4. Prepare the Water Heater Closet
If needed, create an access door for your water shut-off valve outside the closet. Reposition the water lines off to the side and install the main water shut-off in the front of the access door.
5. Remove the Gas Line
Remove the gas line from underneath your home if it is still intact.
6. Patch All Holes
To prevent pests, seal all holes in the floor.
7. Install the Electric Water Heater
Secure the fittings on the new water heater that connects to the water lines. Once those are finished, move your water heater into position and connect the unit to the water lines.
8. Turn on the Water
Fill the storage tank with water and inspect it for leaks.
9. Turn on the New Water Heater
Fasten the unit to the electrical connections, then turn on your electric water heater. 
Note: Never turn on an empty water heater. Turning on a heater before it is filled can cause damage to the unit. 
Once all these steps are complete, you can start using your new water heater. Enjoying hot water after the first installation could take up to an hour, but you should be good to go after that!
Is It Worth Switching from a Gas to Electric Water Heater?
These steps appear daunting, so homeowners may question whether making the switch is worthwhile. However, going electric has tons of benefits that homeowners appreciate.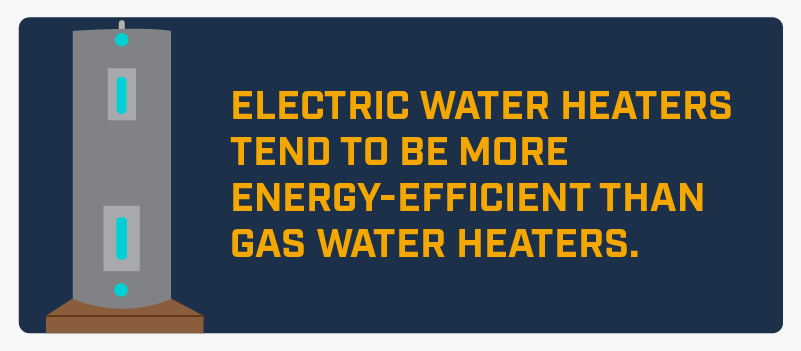 Gas heaters tend to have more upfront costs, so purchasing electric can be an economical option if you want to replace an outdated unit. Plus, electric water heaters can be highly energy efficient. 
When considering the benefits of changing from gas to electric, consult with your HVAC installers and determine which water heater is the best solution for your home.
Portland Water Heater Installation and More
Portland's most trusted HVAC company, AAA Heating and Cooling, offers over 60 years of professional service. Our dedicated team can advise on water heater solutions, recommend replacement options, and schedule routine maintenance.
 Contact us today to take care of all your HVAC needs.