5 Common Misconceptions About Commercial Heat Pumps
Commercial heat pumps have been getting a lot of attention lately because of their energy efficiency. Despite the public interest, there are still misconceptions about these HVAC systems' inner workings. Do you have questions about how heat pumps can benefit your temperature control needs? Let our commercial heating and air conditioning team in Beaverton help you understand all the facts. Read on to learn more about heat pumps and their money-saving benefits!
Our Commercial HVAC Service Company Shares What to Know About Heat Pumps
Many Beaverton business owners contact our heating and cooling team to get answers to their heat pump questions. To help you make an informed decision about your commercial HVAC needs, we dispel five major heat pump myths. 
Myth #1: Heat Pumps Provide Heating Only
Don't let the name fool you. Most building owners don't realize heat pumps are versatile heating and cooling machines. Through mechanical-compression refrigeration, heat pumps can achieve year-round climate control, offering not only heating in the winter, but also cooling in the summer. This means you only need one type of HVAC system for all your temperature comfort needs. 
Myth #2: Heat Pumps are Bad for Your Budget
Many people are under the impression that this type of system is costly. That couldn't be further from the truth. Modern heat pumps are incredibly energy efficient and can save businesses on overall energy costs. In fact, they can reduce electricity usage by as much as 50%, compared to furnaces. While some models could be more of an upfront investment, you'll see a dramatic reduction in your utility costs over time. 
Myth #3: Heat Pumps Have a Short Life Span 
To maintain your ideal indoor temperature, heat pumps run year-round. This has led to the misconception that they burn out faster than other heating units. However, most heat pumps can last between 15 and 20 years. As is with all heating and air conditioning systems, the key to longevity is proper maintenance. Our technicians can help you develop your new system's best service schedule. We also offer 24-emergency assistance should an unforeseeable problem arise. 
Myth #4: Heat Pumps are Extremely Noisy
Heat pumps got a bad reputation in the past for being excessively loud. The last thing a building owner wants is annoying background noise in their property. Luckily, HVAC technology has made leaps and bounds in recent years, resulting in less audible machines. Proper installation and service are also essential to ensuring quiet performance. It's best to partner with NATE-certified commercial HVAC installers specializing in heat pumps, like our team at AAA Heating and Cooling.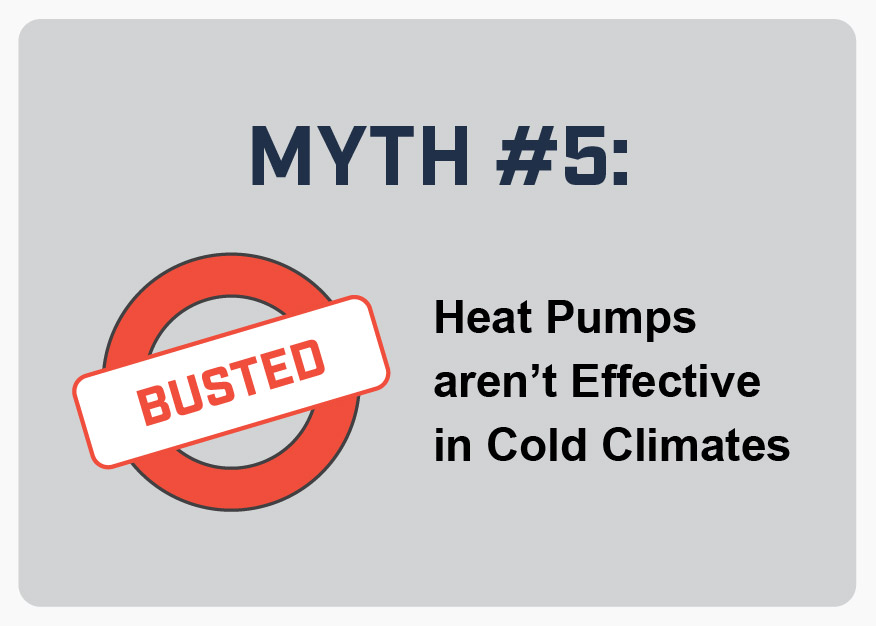 Myth #5: Heat Pumps aren't Effective in Cold Climates
Most of us in the Pacific Northwest don't experience extreme cold frequently. That doesn't mean our temperatures don't dip well below freezing from time to time. Some commercial property owners and managers assume heat pumps aren't capable of effective heating during intense cold spells. That isn't the case. It surprises many people to know there are a variety of heat pumps out there that can handle chilly temps, some even as low as zero degrees Fahrenheit! To find the best system for your needs, consult with one of our heating and air conditioning professionals. We can recommend an optimal heat pump unit for your commercial space. 
Choosing the Best Commercial HVAC Services in Beaverton
Whether you are looking to upgrade your current HVAC system to a modern heat pump option, wanting to develop a routine maintenance plan, or require repairs, it's crucial to work with a company that has commercial experience. Our team has been working with Beaverton and Portland professionals for over five decades. Let us show you why we are the premier HVAC company in the area. Contact us today.